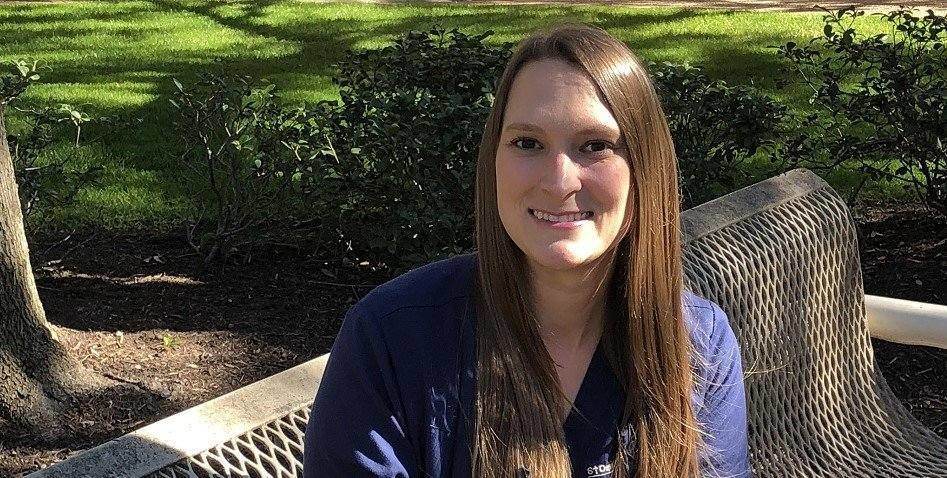 HCA Healthcare is pleased to introduce and spotlight nursing colleague, Alicia Sanders, RN, MSN, SCRN, ONC. Alicia is the clinical nurse educator at affilliate St. David's Medical Center in Austin, TX. Please take a few moments to read about her nursing career and journey below.
1. Why did you choose to be a nurse?
I have wanted to be a nurse as long as I can remember, even as a little girl. Nursing allows you to make a small difference in someone's life every day and to continue learning throughout your whole career. There are not many careers that offer that kind of fulfillment.
2. When and where did you begin your career with HCA?
I started my career as a new graduate nurse on the Neuro unit at St. Davids Medical Center in June 2011. This was my first job as a new nurse and I am still here.
3. Have you taken on new roles since being hired?
I began my nursing career here at St. David's in 2011. During my time here, I have taken on many new roles. I have been a staff nurse, a preceptor, relief charge, full time charge and am now a clinical educator.
4. Which national certification (if applicable) did you choose and why?
I have my certifications as both a Stroke Certified Registered Nurse (SCRN) and an Orthopedic Certified Nurse (ONC). I chose these certifications because they are the specialty areas that I have worked and I wanted to be knowledgeable about the patient population I cared for.
5. What have you learned about nursing during your career?
Nursing is an open door to so many opportunities. It is one of the few professions that you can change your role completely and not have to change fields. There are so many different ways to be a nurse that aren't always in the hospital at bedside.
6. If you weren't a nurse, what would be your profession?
I always thought that I would be a teacher if I were not a nurse, so the clinical educator position is a perfect combination of my love for nursing and my love for teaching!
7. What does caring for and improving life mean to you?
Nurses care for and improve life every day they work. Sometimes it is in a big way, like saving a life, but sometimes, the impact is small, like washing someone's hair. Both big and small acts of caring are just as important to each patient you care for.
8. Tell us about a significant moment that made you proud to be a nurse.
I cannot think of just one significant moment that has made me proud to be a nurse because there are so many. From being thanked by a patient family member for caring for a loved one, to a new graduate nurse that lights up when they get their first IV start, I am reminded daily how proud I am to be a nurse!
9. What's your advice to nurses starting out?
Nursing is not an easy job. There are some days when you will leave feeling like you did nothing right and failed at everything. We have all been there. But the joy of seeing a patient improve and knowing that you were a part of that, makes the difficult times so worth those bad days.